Spring is in the air at Folly Beach, South Carolina, and it's time to venture outside to enjoy the sunshine and breezes. Staying at The Tabby House puts you in the ideal location to enjoy every aspect of South Carolina's beautiful spring weather. Located between Folly Beach's soft, sandy beach and the Folly River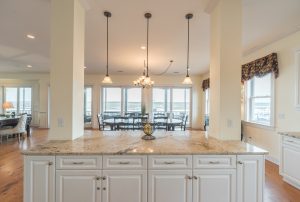 on a quiet peninsula, The Tabby House offers privacy surrounded by Sabal Palmettos and Live Oaks.  The Tabby House's unique location makes it one of the best places to stay on Folly Beach, South Carolina for enjoying both the slow flow of the Folly River and the salty tides of the Atlantic Ocean.
Balmy Breezes
If you have cabin fever from too many months of icy roads and freezing temperatures, vacation rentals on Folly Beach, South Carolina will cure you. March is the month of balmy breezes and warm sunshine here, with daytime highs between 65 and 70 degrees and overnight lows hovering around 50 degrees. You can stroll on the sandy beaches to soak up some sun, then relax in front of a crackling fire at The Tabby House on chilly nights. With up to eight hours of sunshine and warm, salt air breezes, the most you'll need is a sweater.
The Tabby House Sunrises and Sunsets
Many houses for rent on Folly Beach offer either a sunset view or a sunrise view. Very few have exceptional views of both, but The Tabby House certainly does. March offers outstanding sunrises and sunsets streaked with bold shades of orange, red, and pink. Choose the riverside or oceanside and relax with a Mimosa or glass of iced tea while you marvel at nature's artwork.
Spring Activities
With warm weather and gentle breezes, March is the perfect time to break out your kayaks or paddleboards. With accessible water on both sides of the peninsula, you can choose serene waters or challenge yourself to something a bit more challenging. There are plenty of boat tours available as well for guests at vacation home rentals on Folly Beach, South Carolina. The tours are a unique view of the many natural wonders along Folly Beach and in the Atlantic Ocean. Imagine enjoying a coastal breeze while dolphins jump and play alongside your tour boat. Fishing is rich and varied in March and April. Fish from the Folly Beach Pier or rent a charter boat to take you out into deep waters.
Festivals and Fun
Coastal residents love celebrating. In March and April, you'll experience a variety of festivals and celebrations that have enriched the area for years and signal the return of warm weather along the coast and in nearby Charleston. Check out the March and April calendars for Folly Beach, where you'll find St. Patrick's Day parties and parades, annual home and garden tours, festivals, historical reenactments, tea parties, pub crawls, beach festivals and even a Pet Fest in March 28th!
With so much to see and do, it is no surprise that places to stay on Folly Beach, South Carolina, are popular for those seeking warmer weather to launch an early spring. At The Tabby House, you'll discover endless ways to relax and celebrate Spring.