When it's cold and blustery elsewhere, you can find vacation home rentals on Folly Beach, South Carolina to enjoy temperatures in the 60s and 70s. Folly Beach offers luxurious accommodations for your family and friends so you can spend January and February surrounded by activities and comforts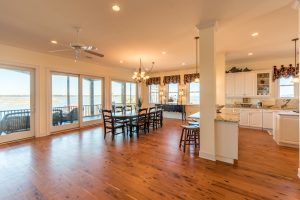 you won't find in colder climates. There are several reasons a winter stay at The Tabby House on Folly Beach, SC will be a welcome break from the bleakness of winter.
Ideal Location
There are lots of places to stay on Folly Beach, but not all of them offer an ideal location that combines access to two of the most popular bodies of water, the Folly River and Folly Beach on the ocean. The Tabby house is situated on a picturesque spit of land with access from the front and rear of the house to both the ocean and the river. The Tabby House is also located close to town, so you can take a quick jaunt into Folly Beach for breakfast, lunch or a late night bite any time of day or night.
Privacy
Some vacation rentals on Folly Beach, South Carolina are located in the downtown or on the boardwalk. Unfortunately, these locations suffer from being a little too close to the action. Bright lights, noise and boisterous tourists can interfere with your own relaxation. The Tabby House is close enough for easy access to activities while being far enough away to give you peace and quiet. You'll be able to relax on the spacious, wrap-around porch and listen to the waves without interruption.
With multiple bedrooms and bathrooms, you, your family and friends will also have privacy within The Tabby House. Having your own master suite gives you the chance to take that long, hot shower without the kids pounding on the door, and there won't be quibbles about who has to sleep on the sofa with six fully furnished bedrooms in addition to the master suite to choose from.
Activities on Folly Beach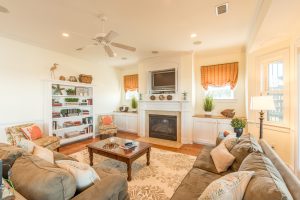 It seems like many cities and towns shut down in January and February, when the bitter weather and snow result in lots of families staying at home for weeks at a time. On the contrary, there's lots to do in Folly Beach even in the winter. Lots of vacation home rentals on Folly Beach, South Carolina are snapped up during the winter because it's a wonderful place to take the family due to the town and surrounding area offering so much to do. Among the popular, annual winter events are:
New Year's Eve Flip Flop Drop and Fireworks – Including vendors, food and music
The Bill Murray Polar Bear Plunge – Dress as your favorite Bill Murray character and take a plunge for cash and prizes, followed by food and drinks at local restaurants and pubs
A Taste of Folly – The annual celebration of local cuisines, including a chili cookoff, cooking demonstrations and more
Monthly Drum Circles on the beach
Folly Gras -The Folly Beach, South Carolina version of Mardi Gras, complete with parade
Weekends of live music and entertainment at various locations throughout the town
If you're looking for houses for rent, Folly Beach SC's The Tabby House has all of the amenities you're looking for. Location, comfort and privacy combine in a luxurious home just minutes from family-friendly activities all winter long.