You're looking to take the family for a vacation, and what better way to commemorate the incoming warm weather than to have a beach day?
Problem is– you don't live near a beach.
Where do you go? Florida and the Outer Banks are always popular, but the rates are high, and things book fast in these cliche tourist spots. Where can you take them that is beautiful, affordable, and relatively available during peak travel seasons?
Our answer: The Tabby House
The Tabby House is the best place to rent on Folly Beach, South Carolina to make your getaway unforgettable.
Southern Charm in Spades
Folly Beach, South Carolina, is a diamond in the rough. Located amidst South Carolina's Lowcountry, Folly Beach offers endless activity from guided river tours, a burgeoning music scene, and picturesque beaches with miles of sand and coastline for a beach bum's paradise.
Spend the day on the beach with your family and friends basking in the sun's rays, swimming in the Atlantic Ocean, or getting out there for some surfing, paragliding, and windsurfing. The Folly Beach SC weather is warm during this time of year, making it ideal beach weather for a spring or summer retreat.
Take a walk on the Folly Beach Fishing Pier, which is one of the longest piers on the east coast of the United States, making for excellent views.
Folly Beach is also home to many saltwater estuaries where kayaking and paddleboarding are popular. Many boat tours traverse these areas as well, providing visitors with a chance to view and learn about some of the local wildlife.
And, since you're in the South, you know the food is absolutely divine, right? Don't take our word. Come try for yourself!
Book Your Stay and Come to Play
You could languish in a hotel anywhere and have the same tired experience you've come to know, or you could book one of The Tabby House's Folly Beach SC rentals to get the full experience of enjoying a beachside retreat.
Choosing to rent gives you more privacy, more freedom, and a real taste of what living life on the beach in a luxurious paradise is like.
East Ashley Ave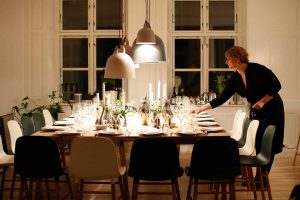 Why cram into an uninspired hotel room when you could just as easily rent at 1406 East Ashley Ave?
This rental offers 5 bedrooms, 5 bathrooms, and a breezy open floor plan to stretch out and decompress after taking in a long day of the sun's rays on the beach. Unwind with a dip in the pool, or play a friendly game of ping pong in the open-air carport.
The property features a decadent kitchen with new, state-of-the-art stainless steel appliances, lavish countertops, and fresh hardwood floors. The living room is full-equipped with high-speed Internet and brand-new TVs. Throw in a grill by the pool, and you have an all-encompassing home base for your Folly Beach vacation.
Plus, it's pet-friendly too!
 The only bad thing about this spot is that you may not want to leave it at all!
Charleston Oceanfront Villas
Uncork and unwind in paradise with unit 306 at the Charleston Oceanfront Villas. 
This converted condo is a complete fusion of luxury living and laid-back beach vibes. Located minutes from the popular Folly Beach Fishing Pier and Center Street, you're in the heart of the action for a Folly Beach rental that is second to none.
The rental comes fully equipped with beach gear and boasts 4 bedrooms, 3.5 bathrooms, and a kitchen that you'll dream about every day after your visit. If the oversized fridge isn't good enough, the former condo comes with a mini-fridge and bar area for additional storage of your favorite beverages.
The complex offers 2 seasonal pools for days where some low-key activity is more your speed.
Your Beach Rental Paradise is Within Reach!
Picture it now– the warm rays of the sun on your face, sand between your toes, the gentle roar of the Atlantic as its waves crash on the shore, an ice-cold drink in your hand.
You deserve a getaway this season, and now's the time to book.
Summer will be here in the blink of an eye, and bookings will fill fast. Don't double down on the same tired trips that everyone goes on. Book with The Tabby House for a unique vacationing experience that will have you coming back year after year.
Book today!