Restrictions are being lifted, and we're ready to head to the shore and breathe in that wonderful salt air again. We want to start enjoying life again. The Tabby House on Folly Beach, South Carolina is one place you can do this. You can soak up the sun, sand, and surf and immerse yourself in nature without surrounding yourself in crowds. It offers all the luxuries of places like Myrtle Beach without the commercialism or the crowds. Instead, you get quiet nights on your own balcony with ocean views on one side and river views on the other at the Tabby House.
Folly Beach Opened May 15
Folly Beach, South Carolina, officially reopened on May 15, welcoming all visitors to enjoy the white sand beaches, miles of surf and stunning views. You can enjoy all of the pleasures of Folly Beach, including dining out downtown, strolling through the historical streets from shop to shop, fishing off the pier, or relaxing on the spacious, wrap-around porches that are a prized feature of many places to stay on Folly Beach, South Carolina.
The Tabby House is A Family-Friendly, Beach Front Home on Folly Beach
Not all houses for rent on Folly Beach SC are family-friendly. If you're longing for a place to get your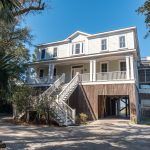 extended family together after months of being away from loved ones, the Tabby House is the perfect location for a family reunion. Bring your whole family together in a comfortable home with all the amenities and access to dining, shopping, surfing, swimming, boating, fishing, and more. Bring the whole clan under one roof where you can dine in a gourmet kitchen, relax, and watch television and movies, and still have the privacy of multiple bathrooms and bedrooms.
Close to So Much to See and Do
We're all longing to do the things we haven't been able to during these months of lockdown and social distancing the last few months, so it's no wonder so many of us are looking for vacation rentals on Folly Beach South Carolina. Places like Tabby House are centrally located to prime beaches for surfing, swimming, and kayaking, as well as excellent shopping and dining. There are also fantastic opportunities for birdwatching and observing the natural wildlife on the Folly River.
If you want to use Folly Beach as your home base to visit nearby Charleston, you can soak up some southern heritage and relax each evening at the Tabby House. You're just minutes away from places like Magnolia Plantation, the many gardens and historic graveyards of Charleston, Rainbow Row, Charleston Harbor, and more.
The Tabby House is one of the finest places to stay on Folly Beach, South Carolina, with stunning views of both the Folly River and the beach and immediate, private access to both. There is even a private boat dock, so you can hit the water any time you like to savor the ocean's soothing sounds and the gentle rocking motion of the waves. Book your stay today or call us at 888-250-8730 if you have any questions. If you've been longing for a return to the joys of Folly Beach, now is the time, and Tabby House is the place!