Can you picture waking up to the soothing sound of ocean waves, feeling the soft sea breeze on your skin, and knowing that you're about to embark on a day filled with sun, surf, and endless relaxation? Welcome to The Tabby House, your private sanctuary on the beautiful shores of Folly Beach, South Carolina. This coastal paradise beckons, promising a vacation experience like no other. Are you ready to create memories that will last a lifetime?
The Tabby House, nestled on the shores of Folly Beach, is the epitome of seaside luxury. Our exclusive vacation home is a haven for travelers seeking tranquility, breathtaking views, and all the comforts of home, and then some.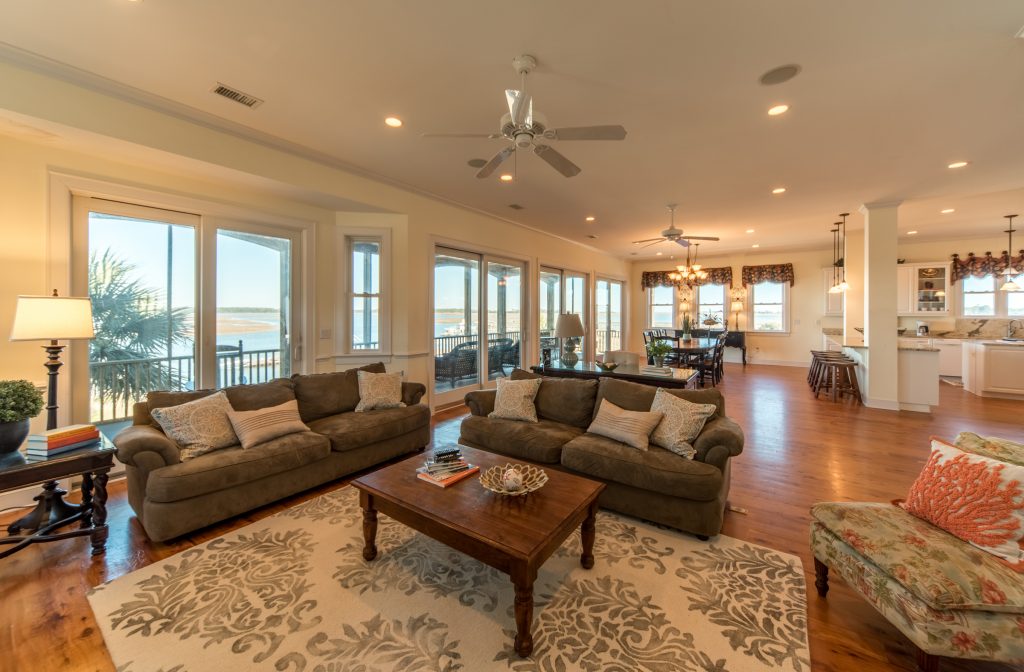 As you step into The Tabby House, you'll be greeted by a spacious and beautifully designed interior that seamlessly blends modern elegance with beachfront charm. The open floor plan allows for plenty of natural light to flood in, showcasing the impeccable attention to detail and stylish decor. With multiple bedrooms and bathrooms, it's the ideal retreat for families, friends, or anyone looking for a secluded getaway.
Folly Beach SC Rentals can be your "home away from home," if you make the right choice, choose The Tabby House. Why? You'll have access to a fully equipped kitchen, allowing you to prepare your favorite meals and savor them with loved ones in the dining area or on the spacious deck overlooking the Atlantic Ocean. Not in the mood to cook? No problem! Invite a chef to the Tabby House for a special at-home meal.
After a day of exploring Folly Beach or simply lounging on the shore, retreat to your cozy bedroom for a peaceful night's sleep. Each bedroom is thoughtfully designed for maximum comfort, ensuring you wake up refreshed and ready for a new day of adventures.
Visit A Year-Round Paradise
When planning a vacation, the weather is a crucial factor, and Folly Beach SC weather does not disappoint. With a pleasant climate year-round, Folly Beach offers the perfect escape from the hustle and bustle of everyday life.
During the spring and summer months, the sun shines brightly, and the temperatures are ideal for sunbathing, swimming, and water sports. The fall season is breathtaking and brings milder weather, making it an excellent time for outdoor activities, such as hiking in nearby parks or enjoying a leisurely bike ride on the island.
Even in the winter, Folly Beach remains inviting. The Tabby House's cozy fireplace provides a warm and welcoming atmosphere for winter staycations by the sea. No matter when you choose to visit, Folly Beach is ready to enchant you with its natural beauty and friendly atmosphere.
The Tabby House Difference
With so many places to rent on Folly Beach South Carolina, what sets The Tabby House apart? It's the attention to detail, the commitment to guest satisfaction, and the unbeatable location.
The Tabby House is more than just a place to stay; it's an experience. Wake up to stunning sunrise views over the Atlantic, savor your morning coffee on the deck, and feel the stress of everyday life melt away with each passing wave. The private beach access means you can step directly onto the sand, making it easy to enjoy long walks, beachcombing, and building sandcastles with the family.
When you're ready to explore beyond the beach, Folly Beach's vibrant community awaits. Head to Center Street, where you'll find charming shops, eclectic boutiques, and mouthwatering restaurants serving fresh seafood and other culinary delights.
Folly Beach's proximity to Charleston opens up a world of cultural experiences. Explore historic sites, visit world-class museums, and immerse yourself in the rich history and Southern charm of Charleston.
The Tabby House invites you to escape to a coastal paradise where relaxation, adventure, and unforgettable moments await. Whether you're seeking a romantic getaway, a family vacation, or a reunion with friends, this Folly Beach rental offers the perfect backdrop for your dream escape.
Visit Folly Beach This Fall
The Tabby House on Folly Beach, South Carolina, is more than a vacation rental; it's an invitation to paradise. Experience the allure of seaside living, enjoy the comforts of home, and savor the beauty of Folly Beach's natural surroundings.
Don't miss the opportunity to create memories that will last a lifetime. Visit The Tabby House today to book your exclusive vacation home on Folly Beach, South Carolina, and experience the magic of coastal living.