Switch out pumpkins and falling leaves for sandcastles and shell hunting by having a not-so-typical Fall vacation this year. Visit the beautiful beaches of Folly Beach in South Carolina. Escape from the bustle of Fall, while enjoying the sun and sand on the beach. 
The Tabby House is a dreamy beach getaway that is one of the most sought-after Folly Beach, SC rentals. It's truly an amazing way to spend a Fall vacation. With so much to offer, even going into the colder months, this is a destination you don't want to miss out on. 
A Home Away from Home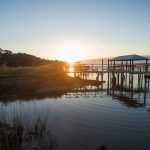 The Tabby House is truly your home away from home. With inviting bedrooms, a spacious kitchen, and an amazing wrap-around porch with stellar 360 degree views, you'll never want to go home! 
This one-of-a-kind Folly Beach rental boasts 6 bedrooms and 5 ½ baths. Enough for a small group or a large family, up to 14 guests. The kitchen is large and accommodating, with modern appliances and beautiful granite countertops. It will make you want to stay in and cook for the family instead of eating out. 
Walk right out onto the water on The Tabby House's personal dock. Put your toes in the water while you take in the breathtaking view! There are also plenty of living spaces for the family to lounge around in after coming home from the beach. You can even grab a rocking chair on the wraparound porch to snuggle up on.
Memories To Last A Lifetime
The Tabby House is one of the best places to rent on Folly Beach, South Carolina because you are close to the action but far enough away to provide some peace and quiet for your family.  You are a hop, skip, and a jump away from Charleston, which offers many fun and engaging activities for the whole family. 
You can enjoy the scenic views from Charleston Harbor on a ferry ride or view the Magnolia Plantation and Gardens for a look into the past. Enjoy their beautiful grounds and gardens. You can even take a ride in a house-drawn carriage to take in all the views of this historic town right from inside the carriage. 
If you're more of a history buff and don't mind trekking around the city, you can take guided walking tours where guides will dive into the rich history of Charleston and how it turned into the bustling city it is today. There is something for everyone in the family.  
A Perfect Fall Getaway
While you may be enjoying chilly Fall football games or your warm pumpkin spice latte on a crisp 45-degree morning, Folly Beach SC weather is much warmer. With an average temperature in the mid 60's to upwards in the low-to-mid 70s, it's perfect weather to stroll the beach during the day and cozy up by the fire at night.
Another perk to going during the Fall is that there are fewer tourists about. It's slower and quieter and the perfect time for family get-togethers and nightly bonfires on the beach. Restaurants are less crowded, and the streets are less congested. You're able to enjoy Folly Beach in its most ideal state. 
Don't wait too long. Fall will soon be over, and the colder months will take over. Reach out to one of our team members today to make sure you get your next vacation booked before Fall slowly fades into Winter.