If you're living in a colder climate this winter, now is the time to load up the car and take your family and friends on a road trip. There are vacation home rentals on Folly Beach, South Carolina still available, putting you in a prime location to enjoy warm weather and plenty to do you won't find elsewhere. Temperatures in Folly Beach vary from day-to-day in the winter but expect temperatures in the 60s and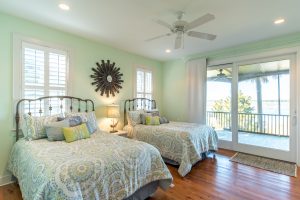 70s during the day dipping into the 50s overnight. Occasional rain showers never last long, and you'll love walking on the beach wearing just a sweater in the evenings.
Folly Beach, SC in Winter
Winter is considered off-season in South Carolina, so you'll find plenty of places to stay on Folly Beach, South Carolina, including the beautiful accommodations at The Tabby House. You'll be able to sit out on the deck and watch gorgeous sunrises and sunsets, sip drinks while enjoying a cool breeze and walking through the picturesque beauty of Folly Beach's fishing pier, boardwalk, and charming downtown.
February is also home to a family-friendly Mardi Gras celebration every February in the historic downtown, so bring the kids and enjoy street performers, arts and crafts, parades, food, and entertainment.
Charleston, SC Winter Events
Folly Beach is just minutes away from Charleston, where there is lots to do during the winter months. You can check out any of the many annual events that take place in February, like:
Oysters on the Point –Aa monthly celebration of oysters and seafood. You'll love the many ways fresh oysters are prepared and served while relaxing on the Charleston Harbor.
Bacon & Bourbon Festival – Celebrating the joys of bacon and Bourbon in all forms.
Low Country Family Expo – An excellent exposition of the traditions and culture of the low country, suitable for all ages.
Low Country Irish Festival – Promoting Irish heritage and traditions with a low country twist.
Southeastern Wildlife Exposition – Hunting, fishing, camping and all things outdoors.
Houses for rent on Folly Beach, SC provide comfort and beauty where you can relax and unwind after a busy day. Privacy, luxury, and quiet surroundings are the hallmarks of The Tabby House, where you and your friends and family can enjoy each other's company surrounded by all the comforts of home.
Plantation Tours
Winter is prime time to tour the many plantations in the region. The mild temperatures and gentle breezes are a bonus, as some plantations aren't air-conditioned. Stroll the grounds, marvel at the beauty as well as the sobering history of these once-great homes. Tours are more personal during the winter months because groups are smaller, so you'll have the opportunity to talk with your guide and ask questions.
Famous plantations offering tours during the winter include Boone Hall and Magnolia Plantation and Gardens. The famous Middleton Plantation also offers their famous Camellia Walks through the home's historical Camellia gardens during February and through mid-March, when the Camellias are at their peak for beauty and fragrance.
Vacation rentals on Folly Beach, South Carolina put you just minutes away from so many enjoyable winter activities. So get away from the cold, snow and ice where you are and experience the sunny warmth of a South Carolina winter!