Summer is fast approaching, which means it's about time to make vacation plans!
This season is the long-awaited time for boating, swimming, grilling, and more! There is no place better for those activities than a two-story, custom-built home right between the Atlantic Ocean and Folly River in South Carolina.
It's a hidden gem, but for those who know this best kept secret, they are booking months in advance to return to the luxurious Folly Beach house rentals. You and your family deserve to follow suit! Enjoy time away from everyday stress and only worry about whether you want to walk on a private peninsula to the riverbank or take a less than ten-minute stroll to the beach.
Location, Location, Location
Just a 25-minute drive south of Charleston, you'll find yourself in a unique beach town on the edge of America.
Unlike many tourist hot spots, the area is mostly filled with quiet homes, local eats, and markets. The coast isn't busting with international hotel chains that translate to a crammed beach. These homes can sleep larger families but won't nearly fill the land with as many tourists as commercial beachside cities, making this area the optimal choice for your relaxing trip.
Like-minded folks who want to wind down surrounded by the lull of the waves and rustling of grand oak leaves take advantage of the vacation rentals on Folly Beach, South Carolina your family is bound to love.
The Tabby House
Out of the many places to stay on Folly Beach, South Carolina, The Tabby House is the best choice with a sturdy deep-water dock and its own private boat ramp. You can bring your boat, your bikes, your golf cart—even your pets—and live your life to the fullest!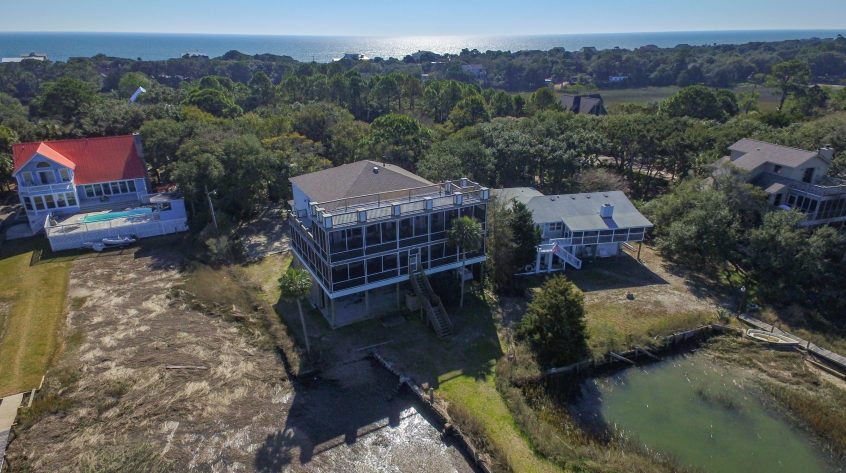 This 4,230 sq. ft. low country home has space for everyone in its 6 bedrooms that almost all have views of the serene Folly River. The tropical island inspired house sleeps 14 people, with two rooms offering their own king size bed! Each of the five and a half bathrooms feature high end finishes. The kitchen screams "luxury" with granite counter tops and six gas burners to efficiently make warm family meals.
The Views
Both floors have screened balconies that wrap around three sides of this home. There are enough cushioned wicker chairs, tables to laugh around, and calming rocking chairs for each family member to take in every breathtaking sunrise or sunset.
These are made even more special in this well-lit home that boasts a reverse floor plan. As families gather most in shared living spaces, the Tabby House has it's living room and kitchen on the second floor! That higher vantage point makes for more captivating views and memories for the whole household!
Who would guess that some of the best places for summer are the vacation home rentals on Folly Beach, South Carolina? Go pack your sunscreen and book your stay at The Tabby House.