Folly Beach is known for having a flair for the unusual and a magnet for adventure seekers. Realistically, how many beach towns do you know that have a New Year's tradition that's as iconic as our "Bill Murray Polar Plunge." For the "non-natives," January 1st, 2021 marked the 7th annual Polar Plunge, in which beachgoers enjoy a weekend of festivities celebrating Bill Murray, a Charleston resident. You can dress up as your favorite Bill Murray character and freeze your "bill off" by running into the Atlantic Ocean. What a memorable way to start the new year!
If the Polar Plunge doesn't float your boat, that's fine! Folly Beach's festival scene in January and February has something for everyone. There's excellent cuisine, live music, entertainment, arts and crafts, and giveaways. When you stay in Folly Beach house rentals, you can be in the heart of the action and forget about Covid 19 for a little while.
Foodie Paradise
Taste of Folly 2021 is around the corner, and vacation home rentals on Folly Beach South Carolina are already filling up. This year the vendors are cooking up mouthwatering dishes and delicious pairings from around the world, making it that much more buzzworthy. 
If you're a first-timer, we'll get you caught up on how it all works. Before heading to the festival, hop online and snag your Virtual Passport for $5 so you'll secure a coveted seat at some of the best restaurants in Folly Beach. Think of the Virtual Pass as a guide with a collection for all of the featured restaurants and what they'll be serving throughout the festival. The food is only one part of the Taste of Folly experience. There's also a Folly Cocktail competition that features some of the best cocktails Folly Beach, SC has to offer for just an additional $5.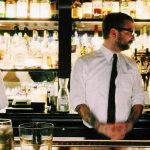 The Taste of Folly is an excellent outing for solo travelers, couples, and families. The day will fly by because there's so much to do and see. Every time you stop in for an appetizer or meal, you'll also collect a stamp on your Virtual Passport. Stamps can add up to some pretty awesome prizes. This year, they'll be giving away luxurious places to stay on Folly Beach, beach gear, golf-cart rentals, and certificates to amazing businesses in South Carolina. Increase your odds of taking home a prize by visiting more restaurants; it's that simple! 
Happy New Year
Finding vacation rentals on Folly Beach, South Carolina, in enough time to experience the Taste of Folly can be stressful if you don't know where to look or what you're looking for. The Tabby House is a premier luxury low country beach home and is a short walk from the beach and the Taste of Folly Festivities. Wither 6 bedrooms after 4,000 ft to unwind; it's the ideal destination for families or small groups or intimate couples trips. Ready to reserve your stay? Give us a call, and we can have you and your family covered.