Have you been longing to get away from the everyday this holiday season? Then consider visiting Tabby House, one of the most popular and beautiful places to stay on Folly Beach, South Carolina. Why would you want to visit during the winter months? There are plenty of reasons!
Beautiful Weather
If you're shivering in northern climes, you've probably had enough of ice and snow to last you the rest of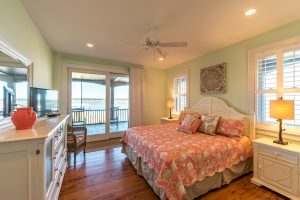 the winter. While a White Christmas sounds nice, it doesn't give you much opportunity to do anything outside. On Folly Beach, the temperatures are around 65 degrees in December, so you can enjoy   being outside wearing nothing more than a light jacket or sweater. So play that game of family football in the yard, take a relaxing bike ride or simply relax on the spacious porch of The Tabby House and watch the waves roll in. You'll love getting away from the cold!
Holiday Shopping
Folly Beach, South Carolina offers a bustling downtown with lots of local shops stocked to the rafters with unique, lovely and luxurious Christmas gift ideas. Locally hand-crafted items range from soft, hand-knit sweaters to beautiful works of art from one of our galleries featuring local artists. Regional cuisine and nautically themed items can make your annual holiday shopping trip so much more enjoyable than impersonal malls or big box stores. And in the heart of it all is the Tabby House, one of the premiere vacation homes on Folly Beach, South Carolina.
Local Christmas Festivities
The flavor of Christmas is all around when you book beach front vacation rentals on Folly Beach, South Carolina. On nearby James Island County Park you'll discover the Festival of Lights, Santa's Village Winter Wonderland and arts and crafts shows, all within just a few miles of Folly Beach. And local residents love to light up their homes with decorations, so take an evening to drive around town and check out the many holiday themed homes. There are Arts & Crafts Shows, Christmas Cantatas and lots of other holiday special events in and around the area to keep you in the Christmas Spirit!
McLeod Plantation
One of the antebellum gems of South Carolina, the McLeod Plantation celebrates the holidays with several special events. The plantation home is sumptuously decorated for Christmas each year. You can learn a great deal about South Carolina's past and its unique, Gullah culture here, where you can explore the grounds, mansion house, slave quarters and visit the majestic McLeod Oak, a lush tree that's over 600 years old.
Enjoy The Tabby House's Comfort and Amenities
While there are plenty of vacation home rentals on Folly Beach, South Carolina, The Tabby House has desirable amenities not offered by some others. Located on a cul de sac, you'll be able to relax with our family and friends away from the noise and crowds, but close enough to town for dining and drinks in the evening.  A gourmet kitchen, six spacious bedrooms, an open floor plan filled with comfortable, decorator inspired furnishings and flooded with light all combine to give you the perfect location for celebrating the holidays with comfort and joy.