It's finally summertime! 
Crisp waves, sandy toes, salt spray, fishing — your vacation awaits! There is no place better for those activities than the Tabby House, the custom-built, low country home of Folly Beach in South Carolina. 
The house has a breath of fresh tropical island décor and sleeps, 14 people. Your closest family and friends, including those with fur and tails, can all tag along to enjoy the best summer adventure you've had in at least two years. 
A Better Home for the Best Memories
The Tabby House is one of the best places to stay on Folly Beach, South Carolina, with its own deep-water dock and private boat ramp. If you bring your boat, feel free to take daily trips up and down Folly River just in your backyard! The riverbank is fully accessible in less time than it takes to drink your morning coffee and is visible from the first story and the second story screened balconies of this reverse floor plan home. 
When scouring through options for Folly Beach house rentals, the Tabby House stands out as a unique, luxurious six-bedroom, five and a half bathroom getaway! The 4,230 sq. ft. plan boasts the perfect shelter for any mood. 
Want to escape the sun and heat? Stay indoors atop one of the king-sized beds or plush coaches. Watch a movie or talk with loved ones seated at the bar while preparing lunch. 
Want just enough shade while breathing in the gentle scents of the river and surrounding flora and fauna? Curl up on a cushioned wicker chair or calmly rock the afternoon away on a rocking chair just outside the second-floor living space. 
You can walk from The Tabby House to the beach in less than 10 minutes. What's more? It's an even shorter ride in a golf cart or on a bike if you choose to bring yours!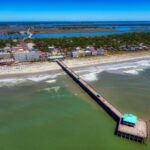 A Beautiful Beach Town
The vacation home rentals on Folly Beach, South Carolina are merely a 25-minute drive south of Charleston, South Carolina. 
This beach town on the edge of America is a relaxing destination with quiet homes and quaint markets. Experience the serenity and diverse activities like a local would, like enjoying a stroll on Folly Beach with views for miles unobstructed by large hotel towers and concrete parking garages. 
You'll already be immersed in the life Folly Beach has to offer by staying in a private, lovely home rather than a hotel. Fully dive in, and don't forget to visit the celebrated local eats.
Take note of some of the best Folly Beach restaurants:
       

BLU

       

Chico Feo

       

Jack of Cups Saloon

       

Lost Dog Cafe

       

Taco Boy

       

The Crab Shack
Grand oak trees, gentle breeze, and cooling waves will envelop you and steal your mind away from the duties back home. Run amok, build a sandcastle, stake an umbrella in the sand, and watch the day's sun escape you. 
Take advantage of the vacation rentals on Folly Beach, South Carolina, your new annual summer trip destination!