Are you craving a tranquil escape from the chaos of everyday life? Look no further than The Tabby House, your haven of relaxation and serenity. Nestled in the breathtaking coastal town of Folly Beach, South Carolina, The Tabby House offers an unforgettable vacation experience. Let's embark on a journey to discover your perfect Folly Beach rental and explore why our charming getaway should be at the top of your list.
Discover Your Oasis at The Tabby House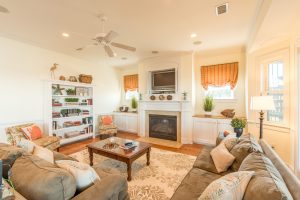 As you step foot into The Tabby House, you'll be greeted by an inviting atmosphere that instantly washes away the stresses of the outside world. This charming vacation rental is thoughtfully designed to provide a comfortable and luxurious retreat. With its coastal-inspired decor, spacious living areas, and modern amenities, The Tabby House embodies the perfect blend of style and comfort.
Unravel the Beauty of Folly Beach, SC
Folly Beach, located just a short distance from historic Charleston, is a vibrant and enchanting destination known for its pristine beaches and laid-back atmosphere. The Tabby House is the best Folly Beach SC rentals for soaking in a world of natural beauty and exciting adventures.
Indulge in long walks along the sandy shoreline, basking in the warmth of the sun and the soothing sound of crashing waves. Immerse yourself in water sports such as surfing, paddleboarding, or kayaking, feeling the exhilaration of the ocean beneath you. And when the day comes to a close, witness the breathtaking Folly Beach SC weather as you take in a captivating sunset over the horizon.
Explore the Magic of Folly Beach
Folly Beach is not just about sun and sand. This vibrant coastal community offers a wealth of attractions and activities for everyone to enjoy. Take a stroll down Center Street, the heart of Folly Beach, where you'll find a variety of restaurants, eclectic shops, and live music venues. Sample delicious seafood cuisine or sip on a refreshing cocktail while immersing yourself in the lively atmosphere.
Nature enthusiasts will delight in exploring Folly Beach County Park, a pristine oceanfront park that boasts maritime forests, sand dunes, and marshes teeming with wildlife. Hike along the trails, set up a picnic, or simply relax and soak up the serenity of the surroundings.
Why Choose the Tabby House for Your Folly Beach Getaway?
Unparalleled Location: The Tabby House is ideally situated, just steps away from the stunning Folly Beach. Whether you're seeking relaxation or adventure, you'll have easy access to everything this captivating destination has to offer.

Comfort and Luxury: The Tabby House provides a sanctuary where you can unwind and rejuvenate. From comfortable bedrooms to well-appointed living spaces, every detail is designed to make your stay a memorable one.

Personalized Service: The team at The Tabby House is dedicated to ensuring your vacation is seamless and hassle-free. From the moment you make your reservation until your departure, they are committed to providing exceptional service and hospitality.
Your Vacation is Waiting for You
If you're yearning for a tranquil escape from the chaos of everyday life, The Tabby House is the perfect place for you. With its idyllic location, luxurious accommodations, and access to the natural beauty of Folly Beach, this enchanting retreat offers the ideal setting to leave the world behind. Discover the magic of Folly Beach, in any of our places to rent on Folly Beach South Carolina and create cherished memories that will last a lifetime. Book your stay at The Tabby House soon and embark on a journey of relaxation and rejuvenation.