Gas is at an all-time high, with prices over $5 per gallon and even $6 in some places of the country. The rising cost of transportation makes it hard for people to get away this summer and enjoy a stress-free vacation on the beach. Who could enjoy themselves knowing that they broke the bank just to drive to their vacation, let alone spending even more money once they're actually there?
The Tabby House offers an answer to vacationers that are looking for some of the best places to rent on Folly Beach, South Carolina that offers a luxurious vacation experience that's mere minutes from Charleston. Save the gas and book with The Tabby House today.
Accommodations Like No Other
South Carolinians are a stone's throw from any of The Tabby House's folly beach SC rentals, making them perfect for pennywise people looking for a lavish getaway but with limited funds. No need to go through a lengthy boarding process or squander your savings on absurd gas prices when Folly Beach offers a perfect paradise close to home.
Plus, renting accommodations elevates your experience from a regular hotel stay to a special getaway!
Tabby Drive– A Hidden Paradise
Tabby Drive is hidden away from the busy roads among the Grand Oak trees along the Folly River. With 6 bedrooms and 5.5 baths, there's enough room for up to 14 guests to lounge, sprawl, laze, and play just minutes from Folly Beach.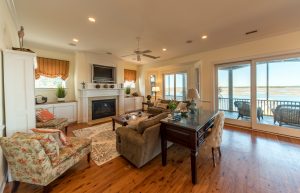 There are high-end finishes like hardwood floors, stone countertops, and pristine moldings throughout the property, and it even features its own private deep water dock that you could use to dock a boat and take out on the water. The living room is extra homey with modern decor and ample seating where you can enjoy a fire at the fireplace, entertainment from the mounted TV, or simply turn and look out the window for great views of the water.
The Tabby House ensures you can spend a great day at the beach enjoying the sun and the surf then retire to a prodigious property that'll have you lounging in style for a Folly Beach rental experience like no other.
Why Folly Beach?
Folly Beach, South Carolina is exceptionally close to Charleston, offering refuge from the city on a quiet and visually stunning beach. The Folly Beach SC weather is great in the summer, encouraging city folk of all kinds to head to the coast for the most fun they'll have all summer.
Guests of The Tabby House can visit any of Charleston's attractions including Waterfront Park where guests are treated to scenic views of the Charleston Harbor, the Cooper River, and the pineapple fountain, which remains one of the most photographed city landmarks to date.
Rainbow Row is another common tourist destination, located along The Battery's East Bay Street and close to Waterfront Park. It consists of approximately one dozen brightly painted mansions that were historically decorated to build intrigue around the neighborhood. Over time, the homes attracted people and encouraged others also to paint their houses in a variety of colors, and so the mission to revitalize the area was successful.

Visitors of The Tabby House will be close to these beautiful and Instagram-worthy locations to get excellent photo ops and take in some of the culture and history of Charleston.
Nothing Beats the Beach
Even with the city only a short drive away, Folly Beach itself offers exceptional beauty, great beach weather, and a plethora of casual beachfront restaurants and bars. The action is lively and seemingly never-ending, but that by no means indicates that you can't find an isolated spot along the coastline and enjoy perfect silence punctuated only by the gentle waves lapping at the shore.
Booking a luxury rental like The Tabby House gives you the best of both worlds on Folly Beach. You can make a party of your vacation, visiting attractions, dining, and drinking along the beautiful coast, or you can simply stay in, rest, and recharge to return to your home life fully rejuvenated.
The choice is yours.
Book The Tabby House and come find out why Folly Beach is the best beach vacation spot in South Carolina!