Spring break season is coming up, and you'll want to find a place to take the family where everyone can find something fun to do. As kids get older, it can be challenging to keep them interested in a family trip.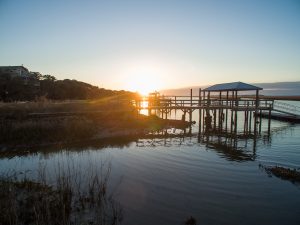 Still, there's plenty to do to keep them engaged and entertained when you choose a vacation home rentals on Folly Beach, South Carolina. Here, there's sun, sand, and surf to appeal to their sense of adventure as well as their love of soaking up the sun and hanging out with friends.
If you have family that includes younger children, Folly Beach has family-friendly beaches with attentive lifeguards, snack shops, and umbrella rentals so your little ones can build sandcastles, splash in the shallows and enjoy some summery treats just moments away from one of the places to stay on Folly Beach, South Carolina.
Charleston is Just Minutes Away
The Folly House on Folly Beach is just ten miles from Charleston, SC. The whole family will love this exciting, cultural mecca. Music lovers can enjoy Blues, Zydeco, Country, Gullah, Rock, and more in the dozens of music venues in the city. There are also numerous opportunities to soak up the cultural heritage of this famous city. Home tours, plantations, slave homes, and battlefields will evoke a bygone era for students and history buffs of all ages. More of a foody? Kids will love the rich selection of everything from She Crab Soup to creamy gelatos and everything in between.
Beach Evenings
With the beach mere steps away and warm breezes over the water, evenings are especially lovely times for Spring Break family time. Back a picnic basket with crawfish or shrimp po boys, toss in some sweet tea, and don't forget cookies from one of the local bakeries in town. Now throw a blanket on the sand and watch the waves come crashing in. Let the kids run in the surf, then head back to The Tabby House to take off the evening's chill. The family can cuddle up to watch some movies on one of the oversized, flatscreen televisions.  The Tabby House is one of the best Folly Beach, SC rentals because it combines spacious communal rooms and dining areas for your whole family with enough bedrooms and bathrooms to give your teens some much-deserved privacy.
Bring the Friends
The Tabby House offers lots of space, so you can bring along your best friends and their children for a memorable Spring Break vacation. At the end of the day, tuck the little ones in, let the teens hang out in front of the television or in their rooms listening to music, and relax with a glass of wine on the wrap-around deck. You'll rest easy knowing everyone's safe and secure in this beautiful home, and tomorrow will be another fun-filled day of adventures and surf. surrounded by natural beauty and wildlife. You won't find any better Folly Beach, South Carolina vacation rentals.