Winter is a thing of the past, and Spring breaks are a much-needed sigh of relief. Family time is in full bloom just like the flowers this new season brings. When Spring comes to mind, lush grass, flowers, birds, and short rain showers quickly follow.
You know what also awaits? Relaxing on a beach, swimming, grilling, golfing, and finally being able to walk from shop to shop in a strip mall without freezing. Folly Beach, SC rentals are some of the premier spots to enjoy all of those things and more. A Folly Beach rental that is particularly nice for a family vacation as the weather warms is the Tabby House.
The Right Spot
Beyond all the fun activities a family or group of college friends might have on spring break, a key detail that sets the overall experience up for success is renting the best vacation spot. The Tabby House has a tropical island theme throughout its two stories with white and tan color pallets to lighten any mood and promote relaxation. There is plenty of communal space on the second floor of this reverse floor-plan home.
Relax and Get Ready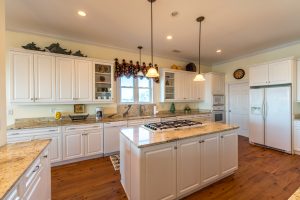 You can all gather around the open kitchen bar stools having breakfast and nail down details of the day's itinerary. You can sit around the living room or balcony on a wicker chair looking out at the Folly River after a long day boating on it. You can call dibs on the master bed and catch up on much-needed sleep away from day-to-day responsibilities before heading out early for the green.
There's something about this custom-built, 6-bedroom low country home spanning over 4,000 square feet that holds the secret ingredient, checks all the right boxes, for a place to enjoy this shift in Folly Beach SC weather.
Time for Adventure
When near Charleston, SC and conveniently located by a beautiful beach, there are plenty of activities to enjoy and sites to see. Maybe you like nature and would want to visit the pelican rookery in Folly Beach County park.. Enjoying nature and being a bit of a history buff might bring you to enjoy the Lighthouse Inlet Preserve. The Morris Island lighthouse was first used in 1876 and has a slight lean from an earthquake. It's a must-see while in the area.
You can grab some beach photos near the 1,045-foot Edwin S. Taylor Folly Beach Fishing Pier, or golf at Oak Point Golf Course, The Ocean Course, Cougar Point Golf Course, or even Charleston City Golf Course and Academy. There are many options to practice your long and short game.
Explore local eats like:
BLU Beach Bar & Grill

Rita's Seaside Grill

Snapper Jacks

The Crab Shack

Alfredo's On Folly
The potential for adventure, the lively beach atmosphere, the history– Folly Beach is a gem on the Eastern US coast. The Tabby House of all the places to rent on Folly Beach South Carolina is bound to be a repeat spring break destination.