Fall in Folly Beach is a lovely season. Even when the Folly Beach, SC weather dips in temperature, the ocean stays relatively warm and still inviting, especially compared to further up the Atlantic coast. 
The Edge of America
The powdery, sandy stretches of beach leading to the 1,000-foot pier offer much room for activities. Take leisurely strolls, soak up some rays or read and nap under a tent. Search the horizon for the arched peaks of swimming dolphins if weather in the 60's is too brisk for you to swim yourself. There is still plenty to do; it's time for boating, grilling, and more! 
There is no place better for those activities than a two-story, custom-built, 4,230 sq. ft. low country home that sits between the Atlantic Ocean and Folly River. The Tabby House is the premier selection of places to rent on Folly Beach, South Carolina, where your beach vacation awaits at the edge of America. 
A Different Kind of Beach Trip
If you want to relax while the children build sandcastles, and then return to a luxurious Folly Beach rental, choose the one where you can walk on a private peninsula to the riverbank or take a ten-minute walk to the beach.
Folly Beach, SC rentals are large homes taking up residence in the absence of bustling international hotel chains. The Folly Beach is calm and less commercial, making this town a unique, serene choice for a trip. A place like the Tabby House boasts a sturdy deep-water dock and its own private boat ramp to facilitate water activities that can be enjoyed year-round. A chain hotel wouldn't offer nearly enough room nor such accommodations, and of the homes to rent, the Tabby House is a cut above the rest.
Vacation Headquarters
The Tabby House has space for your whole group with six bedrooms, of which almost all of them have views of the serene Folly River. The home contains six bedrooms (two with king beds) and five and a half bathrooms. There is enough room for most guests to take showers after a beach day simultaneously or take a nap after being drained by the sun.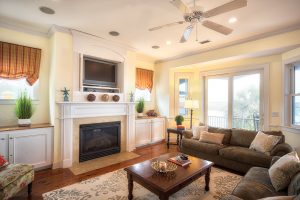 When you need that post-beach lunch, of the many Folly Beach house rentals, the Tabby House stands out with a large, open kitchen, which is on the second floor of this reverse floor plan home. The kitchen has lovely granite countertops, a six-gas-burner stove, bar seats, and a central island. 
There are wide windows and sliding glass doors for natural light to shine in the tropical island-themed abode. When you're not soaking in the sun, and are instead enjoying shade and shelter, you can still feel fully immersed in a tropical mindset. The décor screams beach getaway. 
When you're not sitting on a canvas chair below an umbrella staked in the sand on Folly Beach, sit on a dark wicker chair on a screened-in balcony at the Tabby House. Start planning your trip and look at Tabby House availability!