The Coronavirus has recently impacted vacation home rentals on Folly Beach, South Carolina, and The Tabby House is no exception. New regulations in place mean we can't currently lease out The Tabby House before at least May 31, 2020. When we are once again able to open our doors to guests, however, you can rest assured we'll take every precaution to protect the health of our guests and create a memorable stay.
When restrictions are lifted, we'll have The Tabby House ready for you and your family so that you can enjoy the warm sunshine, soft breezes, and gorgeous surf in one of the most charming houses for rent in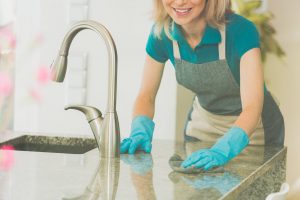 Folly Beach, SC. While we always take the time to make sure you can enjoy the many amenities of this beautiful waterfront house, we will be taking extra precautions in the wake of the COVID-19 pandemic.
Closed Doors to Protect The Tabby House & Its Guests
The Tabby House will remain closed until restrictions are lifted. There is no wiggle room on this, as social distancing is our number one priority until the crisis is past. You can, however, contact us by email to ask questions or make a reservation for later in the year.
Proper CleaningPrior to Re-Opening
We always clean and prepare The Tabby House for guests, stocking supplies that range from toilet paper to bedroom linens and luxurious towels. In response to concerns about the Coronavirus and the safety and health of our guests, we will be taking additional precautions before our guests check in. We will clean and disinfect the entire house before opening The Tabby House using commercial grade sanitizers and cleansers. We'll place particular focus on items that are frequently touched, including all televisions, doorknobs, remote controls, kitchen and bathroom faucets and controls, appliances, and balcony railings. Tables and chairs will be thoroughly wiped down.
Soft furnishings will be cleaned and vacuumed. All sheets, comforters, towels, pillows, and other soft furnishings will be washed using the hottest water allowed and a sanitizing detergent. The decks and patio furniture will also be cleaned thoroughly prior to each rental. Our cleaning and sanitizing are done professionally and with full attention to detail.
The Tabby House's Many Safety Features
When the COVID-19 crisis is just a memory, join us at one of the most spacious houses for rent on Folly Beach, South Carolina. It's the perfect remedy for your family's "quarantine cabin fever," with soft, sandy beaches, warm ocean breezes, and azure water as far as the eyes can see. The Tabby House is proud to offer numerous security features for our guests, including:
Secured, keyless entry
Private boat dock
Secured bedrooms
Multiple bathrooms for privacy and cleanliness
Private washers and dryers are sanitary and convenient
Contact Us for More Information
We understand that you may have questions about future bookings and the current restrictions at The Tabby House and other vacation rentals on Folly Beach, South Carolina. Please don't hesitate to contact us at vacations@dunesproperties.com or call 888-250-8730, and we will be happy to address your concerns.