When looking for vacation home rentals on Folly Beach, South Carolina, you'll find a wide range of options. There are small homes, large homes, condos and more, but they aren't created equal. If you're looking for truly luxurious accommodations with easy access to Folly Beach, the Tabby House has everything you're looking for and more. For anyone seeking true relaxation amid natural beauty, one of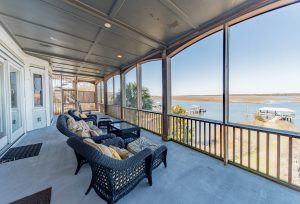 the finest places to stay on Folly Beach, South Carolina is our 4,000 square foot, multi-level dream home.
Space for Your Entire Crew
Vacationing with family or a group of friends can become a problem when you have lots of people and limited space. Fortunately, at Tabby House there is more than enough space for several families. There are six bedrooms and five and a half bathrooms, so you won't have to cope with making up a bathroom schedule or kids squabbling over bedroom space. We've included a total of two king beds, four queen beds and 4 double beds so that no one is stuck on a pull-out couch! The luxuriously appointed second floor features a massive great room that combines the living room, kitchen and dining area so everyone can congregate in the evening to relax and enjoy time together.
Incredible Views
Longing for a place to enjoy beautiful sunrises or sunsets? Tabby House is one of the best beach front vacation rentals on Folly Beach, South Carolina for spectacular sunsets and sunrises! Watch the sun come up over the ocean in the mornings and relax on one of the spacious porches as you watch the sunset over the Folly River in the evenings. The views of both river and ocean give you many opportunities to indulge your inner photographer or simply sip a cocktail and enjoy the beauty.
Rich Water Living Opportunities
Fishing? Paddleboarding? Kayaking? Surfing? Boating? With a deep water dock, private boat ramp and easy access to both river and ocean, there is no shortage of opportunities to experience waterfront living. Just a few minutes' walk from Folly Beach Pier, Tabby House is one the best places to stay on Folly Beach, South Carolina if you plan on doing anything on the water. You can also take advantage of local fishing charters, surfing lessons and some of the best fishing in the Carolinas from the Folly Beach Pier.
Nightlife and Shopping
It's a short stroll or quick golf cart ride to Folly Beach's Center Street, where you'll find plenty of shopping options, including everything from fine jewelry to souvenir tee-shirts. Browse our many local shops and discover a treasure to take home when your vacation is finished. If you'd like a night on the town, there are restaurants and bars offering the freshest seafood imaginable and delicious concoctions to sip while relaxing on outdoor patios or in air conditioned comfort.
Cooking in Style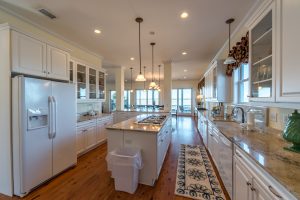 Not all vacation home rentals on Folly Beach, South Carolina feature gourmet kitchens, but Tabby House does. If you plan on cooking for your crew, you'll appreciate thoughtful details like our double-sized refrigerator/freezer and the six burner stove. Cooking for crowds is no problem when you have a granite-topped island kitchen and shelves you can stock with all the foods you'll need to prepare elegant dinners or quick breakfasts for a hungry family. The open floor plan on the second floor also means you can saute or bake to your heart's content without missing out on the fun while friends and family relax around the flat screen television above the fireplace or gather at the dining table.
Contact us today to learn more about one of the most luxurious beach front vacation rentals on Folly Beach, South Carolina. We guarantee that Tabby House will exceed your expectations.