There aren't many things that are better than a beautiful summer day at the beach. Spending a glorious day on powdery sand while soaking in the waters of the Atlantic Ocean is a dream for many, but it doesn't have to remain a dream. It can become a reality this summer, but you're running out of time!
The Tabby House is an exceptional property that stands out as one of the best places to rent on Folly Beach SC. Visit this season to find out what makes it so special.
An Amazing Accommodation
The Tabby House is a picturesque property that sits on the shoreline of the Folly River. This Folly Beach rental has 6 bedrooms and 5 ½ bathrooms. It is spacious enough to house up to 14 guests at a time with living space to please both adults and children. You will have room for your family and closest friends in this one-of-a-find rental. 
The immaculate hardwood floors and decorative molding add to the aesthetic beauty of the house. The kitchen is outfitted with modern appliances and ample preparation space on the granite countertops. If you are looking to show off your cooking skills this is the perfect kitchen to demonstrate your talent. Amateur cooks and top chefs alike will find a lot to enjoy.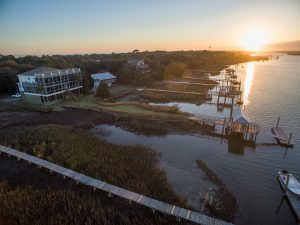 The gigantic deck overlooks the water and makes it an ideal place to take in the sunrise or the sunset. The Tabby house has a private dock which allows quick access for fishing, swimming, and boating.
The Tabby House is also close to Folly Beach so you can spend your days enjoying the surf and sun and then retire to the Tabby House in comfort. You won't have to sacrifice relaxation for exciting activities when you stay at the Tabby House. Its magnificent layout, thoughtful decorative details, and proximity to Folly Beach makes it one of the most perfect Folly Beach SC rentals.
Folly Beach: Where Fun and Fantasy Meet
If you are a tourist or South Carolina native looking to take an extended break from busy city life, then Folly Beach is the perfect place to get away from it all. 
The summertime is the perfect time to visit the beach because Folly Beach SC weather is warm enough to enjoy the ocean but cool enough to spend the day on the sand. It's the perfect place for a dip in the Atlantic or a nap on the beach.
While many visitors could spend the entirety of their vacation relaxing on Folly Beach, some people may need an excursion or two to keep things exciting. If you are looking to experience delectable dining options, then Folly Beach has you and your guests covered. 
Pier 101 Restaurant & Bar is a cool and casual restaurant that overlooks the beach. You can enjoy freshly caught and deliciously prepared fish while still catching an ocean breeze on their outdoor deck. 
The Washout offers both food and drinks that will help cool you down after soaking up the sun all day. Whether you've a penchant for boozy cocktails or bar bites, it's a great establishment to kick back and enjoy.
There are also plenty of places to shop such as Mr. John's Beach Store where you can purchase items to make you look like a Folly Beach local. If you're looking to purchase souvenirs, look no further than Islander for the perfect gift for every person on your list. You will be sure to find what you need as there are many shopping options to choose from.
If you're worried that a beach as lovely as Folly Beach will be bustling with people, fear not. You will be able to find isolated spots on the beach to take in some much-needed quiet time.
Make sure to apply extra sunblock and wear a hat! You may be there a while!
Your Beach Paradise Awaits…
Staying at The Tabby House gives you the opportunity to blend relaxation with sightseeing. Whether you or your guests are in the mood to dine, shop, or mingle on Folly Beach, you will have peace and comfort when you return to The Tabby House. 
Don't wait any longer to find out why Folly Beach is a hidden gem in South Carolina. Book your stay at the Tabby House today and see for yourself!