What is the first thing that comes to mind when you think of "vacation"? It could be a villa on the coast of Italy, or perhaps a cabin escape to the Rockies. Regardless, the term "vacation" is often synonymous with the idea of luxury. So, what if we told you that you didn't have to drive through icy mountain tops or book a flight to achieve that?
The Tabby House is your vacation home close to home. With its vast scenery and cozy decor, The Tabby House is one of the perfect places to rent on Folly Beach, South Carolina.
This Trip is Not Far from Home
Traveling abroad is expensive. On top of that, it's stressful and time-consuming. The Tabby House gives you all the qualities of a luxury getaway without the hassle of traveling abroad. This six-bedroom, five-bath home not only sits on the picturesque shores of Folly Beach, but it is also tucked away into a cul-de-sac, giving you the privacy and peace that you are looking for.
But let's face it. This is a vacation! And with every vacation comes exciting excursions for you and your loved ones. Thankfully, the Tabby House, though nestled away in a private cul-de-sac, is arms-length from the coast, where you can enjoy the fantastic Folly Beach SC weather. Whether you're looking to surf, shop, or simply listen to the local bands, the Tabby House is centric to all your favorite activities.
Keeping Memories Close
We want to help you build long-lasting memories with your loved ones. Which is why we pride ourselves on making the Tabby House the perfect Folly Beach rental for your next vacation. Put aside the spacious dining and living spaces that offer endless opportunities for memory-making. The Tabby house is equipped with everything you need to ensure that memories are made, and smiles are seen.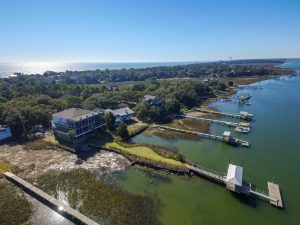 The deep-water dock and private boat ramp is everything that boaters can dream for. Providing the perfect place for fishing, water sports, or even just a peaceful cruise, boaters and passengers alike can enjoy a lovely day on the calming tides of Folly River. But we hear you: "What if there's not enough space for us to bring our water activities?". There's no worry about that. Local shops have everything you need, and they are convenient to the Tabby House's location. You will be able to find everything and more to enjoy the perfect day on the water. 
And for those who prefer land, a wrap-around porch with front-facing views of the glistening water is there to enjoy as well. The low country style home houses an indoor mini bar which land-lovers can use before taking the afternoon to watch the pristine sunset or enjoying a short stroll the sandy shores of Folly Beach. The Tabby House is truly built for the best of both worlds. 
The Tabby House is unique from other Folly Beach SC rentals. Our Tabby House team wants to ensure that your next vacation is seamless and peaceful. Are you ready for a vacation without the hassle? Reach out to one of our team members today to book your next vacation with us.