"Paradise" means many things to many people and trying to define a vacation paradise can be difficult when everyone has a different idea of what paradise. The Tabby House on Folly Beach, South Carolina, however, may be the ideal vacation paradise for almost anyone.
A Luxurious Paradise
For many people, a vacation paradise is one that exudes luxury and all the trappings of a life well-lived and well-rewarded. The Tabby House is one of the most luxurious vacation home rentals on Folly Beach, South Carolina, making it a paradise for anyone who craves the finer things in life when on vacation.
Over 4,000 square feet of luxury includes 6 bedrooms, 5-1/2 bathrooms and a beautifully decorated great room area that combines a gourmet kitchen, spacious dining room and living room furnished with comfort and elegance. Details like fine linens, granite countertops and oversized beds complete the luxury of this beachfront vacation rental.
A Natural Paradise
The beauty and majesty of nature are all some people need for their vacation paradise, and The Tabby House delivers, providing one of the most naturally beautiful places to stay on Folly Beach, South Carolina. The Tabby House is nestled amid Sabal Palmettos and live oaks on a stretch of natural beach that leads to crystal clear waters. You're within easy walking distance of both the ocean and the Folly River, where you can see everything from dolphins to egrets against both sunrise and sunset skies. You'll be moments away from wetlands, marshes and an ocean teeming with wildlife reminiscent of Eden, a natural paradise difficult to find in today's world.
An Active Paradise
Some people imagine paradise as a place where they can do all the things they love the most, whether it's shopping with friends, boating, fishing or clubbing. If an active lifestyle seems like paradise for you, beach front vacations on Folly Beach, South Carolina are the way to go and The Tabby House can be the center of it all. Start each day with a quick breakfast in the gourmet kitchen before hitting the Folly Beach Pier for some intense fishing, then launch your boat on the ocean waves for an exhilarating cruise where you'll see sea turtles, dolphins, eagles and more. At the end of the day, a vibrant nightlife is available in town, where you can enjoy cocktails, music and dancing until the wee hours. If you like to keep moving, The Tabby House on Folly Beach is your address for paradise.
A Relaxing Paradise
For those looking for a bit more peace and quiet when searching for a vacation paradise, The Tabby House is also the answer. Some beach front vacation rentals on Folly Beach, South Carolina are too close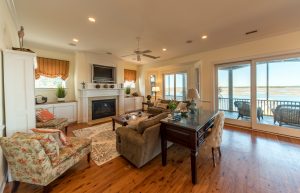 to town for real relaxation, but Tabby House is close enough to visit and just far enough away to offer serenity and peace. You'll be surrounded by mature, live oaks and Palmetto trees on the wrap-around balcony, where you can relax and put your feet up while sipping a cool drink. With water views in nearly every direction, you can do nothing at all surrounded by beauty. Take stroll on peaceful stretch of coastal beach explore the Folly River, take an afternoon nap or simply chat with friends and family in lovely surroundings.
The Tabby House is paradise central for just about anyone, no matter what your idea of paradise is!