The Tabby House, a two-story, custom-built home close to the Atlantic Ocean and Folly River is one of the most on-demand places to rent on Folly Beach, South Carolina.
A mere 25-minute drive south of Charleston, on the edge of America, sits the best Folly Beach rental with its own deep-water dock and private boat ramp. The sandy, family-friendly beach is only a 10-minute walk away.
This 4,230 sq. ft. low country home sleeps 14 people and is your family's next destination to wind down surrounded by the sound of rolling waves and rustling oak leaves.
Fun in the Sun
Build a sandcastle, play volleyball, or just watch the daylight come to an end from under an umbrella. Bring canoes and kayaks, or even rent a kayak from Charleston Kayak company.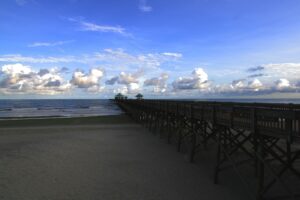 Show off your swimsuits or collect seashells. Fish from the Folly Beach Pier that extends 1,000 feet into the Atlantic Ocean.
There is an endless array of activities to pass hours in the sun on the warm, inviting beach!
Of the Folly Beach, SC rentals available, the Tabby House is perfectly placed between freshwater and saltwater adventures. You, your family, and your friends deserve a beach vacation with limitless opportunities to make memories.
Plan the Best Beach Vacation
Folly Beach, SC weather is mostly dry and cool towards the end of the year. October has an average high of 88° F and low of 77 ° F, November has an average high of 67 ° F and low of 53 ° F, and December is the coolest at 61 ° F high and 46 ° F low.
Even if you aren't engaging in water sports, Folly Beach is a quiet, quaint town with nice markets, lovely scenery, and great food.
There's a wide variety of local eats and some of the best Folly Beach restaurants are close to the pier, including:
BLU Beach Bar & Grill

Rita's Seaside Grill

Snapper Jacks

Taco Boy

Wiki Wiki Sandbar

Logger's Head Beach Grill

The Crab Shack

Alfredo's On Folly
Get Around
Take a stroll, ride a bike, or drive a golf cart from The Tabby House to the beach. Golf carts are available to rent from Lightning Bugz Lsv.
If you bring your boat, feel free to take daily trips up and down Folly River since the riverbank is fully accessible from The Tabby House backyard.
Relaxation Headquarters
The Tabby House is one of the Folly Beach, SC rentals that books quickly. It has space for everyone in its six bedrooms that almost all have views of the serene Folly River. Two rooms offer their own king-size bed!
Each of the five and a half bathrooms features high-end finishes. The kitchen boasts granite countertops, six efficient gas burners, bar seats, and a central island. There are plenty of windows and sliding glass doors for natural sunlight in the tropical island-themed abode.
Both floors of the reverse floor plan home have screened balconies with cushioned dark wicker chairs, tables to gather around, and soothing rocking chairs for each guest to take in the beach town paradise.
Hang your hat at The Tabby House and rest easy knowing you made the best decision for your next vacation!