If your bucket list, like most, features unforgettable places as well as memorable activities, be sure to add Folly Beach, South Carolina to your list. While this gorgeous island community in the  Atlantic Ocean may not be as well known as other, larger cities and more famous coastal communities, it has a unique combination of features that should move it to the top of your bucket list. By spending some time at one of the many places to stay on Folly Beach, South Carolina, you can actually check several items off your bucket list in one unforgettable visit.
Bucket List Item: Visiting Historical Charleston, South Carolina
Charleston is one of the most historically significant and beautiful cities in the South. It has a rich history, a complex cultural heritage and beautiful architecture. It can be a very expensive and difficult
place to stay, however, so consider vacation home rentals on Folly Beach, South Carolina as a peaceful alternative. You'll be able to visit Charleston every day but return to a luxurious home in a quieter location each evening. It's just 20 miles from Charleston to Folly Beach, giving you the best of both worlds. After a day of shopping and sightseeing in Charleston, you'll love coming home to the serenity and luxury of the Tabby House.
Bucket List Item: Experiencing Coastal Wildlife in Its Natural Habitat
Do you want to see some of nature's most majestic creatures in their natural habitat? Then Folly Beach, South Carolina is a natural choice – you'll be able to see dolphins, bald eagles and sea turtles in their natural habitats. Folly Beach is surrounded by crystal clear waters teeming with dolphins and sea turtles, Our wetland  habitats, marshes and coastal beaches are home to a variety of beautiful birds ranging from majestic bald eagles to brown pelicans and snowy egrets. At the Tabby House, you can walk down to the beach or enjoy scenic views of the Folly River, both ideal settings for observing the abundant wildlife unique to Folly Beach. The spacious porch and huge windows give you panoramic views that are unmatched elsewhere.
Bucket List Item: Discover Our Rich, Coastal History
Folly Beach has a long and colorful past featuring piracy, tragedy and heroism. First inhabited by Native Americans, the island was later owned by European and settler families who never visited, and nearby Charleston authorities seldom visited. Pirates appreciated the area because it provided natural cover and wasn't policed by the authorities. During the Civil War, however, Folly Beach was an important staging area for the Union Army's efforts to attack and undermine the Confederate troops in Charleston.
Over time, bootlegging became a new use for the island. Rum runners could bring alcohol from Canada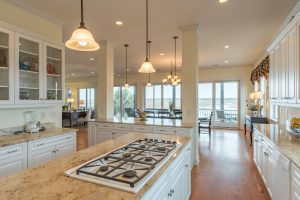 and store it on the island before transporting to the mainland. Eventually, these questionable activities gave way to more acceptable activities as wealthy mainlanders came to appreciate the beauty and peace of the area, establishing resorts and building beach front vacation rentals on Folly Beach, South Carolina. This small island has an incredibly rich history that is a microcosm of the importance of coastal islands in U.S. history and you can enjoy it all from the Tabby House, a true Folly Beach jewel with beautiful surroundings and all the amenities you'll need for a comfortable stay.
Bucket List Item: Enjoying Watersports and the Ocean
If you've never tried watersports on the Atlantic Ocean, you're in for an unforgettable experience while you stay in one of the many vacation home rentals on Folly Beach, South Carolina. With easy access to both the Atlantic Ocean and the Folly River, you can experience a wide variety of exhilarating water sports, including world class surfing, fishing from the Folly Beach Pier, ocean and river kayaking, paddle boarding and swimming in crystalline surf. Experiencing the ocean for the first or last time is on many people's bucket lists, and Folly Beach offers the ideal setting to enjoy it with both sunrises on the ocean and sunsets on the river a part of your water sports experience.
Folly Beach, South Carolina offers so many ways to fulfill items on your bucket list in one beautiful, serene location. Book your stay at Tabby House today to take advantage of all the island has to offer.