When shoveling snow, picture yourself strolling down a 1,000-foot pier overlooking where the blue waves heading to the shore behind you meet the powdery sand.
As you scrape ice from your windshield, and salt your walkways, think about canoeing or kayaking through a beautiful winding river, and gently bobbing over the water's surface where the river meets the Atlantic Ocean. 
Does envisioning a lovely beach getaway while you check your coat seem like an untraditional way to spend the holidays? If it feels that way, it's because it is. However, the most memorable, exciting adventures are those that happen outside of the norm. 
A New Holiday Tradition
While many people want to make it home for the holidays, spending time away from home can be just as magical. As long as the people you are making memories with are gathered with you, home truly is where the heart is. 
In the coming weeks, Folly Beach, SC weather will mostly fall between the low 50's and mid 70's. All the while, the ocean stays relatively warm. If a brisk temperature upon your stay isn't ideal for swimming, there are more activities to enjoy and places to see. There is more than dipping your toes in shallow, cool waves.
A place like the Tabby House Folly Beach rental with its own sturdy deep-water dock and private boat ramp make it easy for boaters to enjoy the water all year round.
If you and your loved ones aren't interested in boating, walk up and down the beach barefooted and with only a light jacket. That will really help you reflect on finally being away from the colder weather. If somewhere is warm enough to get sand between your toes and see long blades of grass ripple in the wind, it's the perfect location for a getaway. 
Give Grandma's House a Break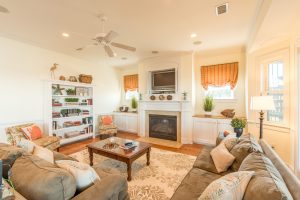 Folly beach SC rentals are not created equal. The Tabby House is the best two-story, custom-built, 4,230 sq. ft. low country home for you and your extended family. During a time where everyone gathers at a loved one's home, eliminate the pressure of hosting.
The décor of the Tabby House screams beach getaway, and that's exactly what it is. You're one step away from granting your family's wish for warmer weather. 
Of all the places to rent on Folly Beach, South Carolina, the Tabby House has the space and amenities to create lasting memories in a new location. With six bedrooms, five and a half bathrooms, and a large, open kitchen, multiple generations can cook up comforting meals and get plenty of rest after pitching in together. 
The kitchen on the second floor of the reverse floor plan home boasts a six-gas-burner stove, granite countertops, bar seats and a central island. It's perfect for sharing stories while preparing cookies and hot chocolate with the kids. Under a different roof, surrounded by island aesthetics, everyone can still share in some of the same traditions of playing games and listening to music.