As coronavirus restrictions are slowly lifted around the country, you might find yourself daydreaming about your next vacation. The Tabby House on Folly Beach, South Carolina is your perfect social distancing destination for a breezy, sunny, beautiful vacation. Vacation rentals on Folly Beach, South Carolina are in high-demand, because they are truly the perfect spot to enjoy a hard-earned social distancing vacation safely.
About The Tabby House
The Tabby House is one of the most luxurious vacation home rentals on Folly Beach, South Carolina. Situated on the calm and relaxing waters of the Folly River, The Tabby House boasts gorgeous views of the water from the quiet, lush peninsula.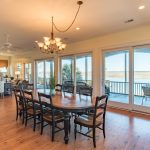 This waterfront property is more than 4,000 square feet, and has a spacious, sprawling floor plan. The Tabby House features 6 bedrooms and 5-1/2 bathrooms, as well as a den with mini bar, and a dream kitchen with granite countertops and a 6-burner gas cooktop, perfect for cooking elegant meals. The Tabby House also has refined and carefully-selected details, such as luxurious linens and plush beds.
The Tabby House is a family-friendly vacation destination, and there are certain details about the property and location which make it a perfect place to bring little ones. For example, the nearby beaches are staffed with trained lifeguards, there are snack shops, picnic areas, and even umbrella rentals, to make sure you're comfortable and have what you need while on the beach with your family.
Unwind On The Water
One of the reasons why The Tabby House is one of the premier places to stay on Folly Beach, South Carolina is because of its location. From most of the massive windows in the property you have views of the calm waters. And not only does it have a private deep water dock, but The Tabby House is also just a short walk to the beach, meaning the entire family can easily spend hours on the water.
The Tabby House is a paradise for boaters, and you're welcome to bring your own boat to your dream getaway. Plus, there's no shortage of water activities to do, including swimming, surfing, and fishing. You're also able to rent both golf carts and bicycles to get to the beach with ease.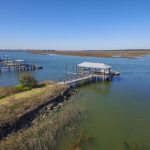 Natural Wonders
The Tabby House is one of the top houses for rent in Folly Beach, South Carolina because it offers impressive access to natural wonders. While on the water, you can spot sea turtles, dolphins, and even eagles. Grand Sabal Palmettos and live oaks provide the property with privacy, and the natural wonders around The Tabby House are an excellent setting for birdwatching.
Around Town
Vacation rentals in Folly Beach, South Carolina are an excellent choice for your next getaway because of the amount of activities there are to do around the area. There's no shortage of incredible restaurants and nightlife options in Folly Beach itself. It's easy to spend the afternoon meandering near The Folly Beach Pier, and spend the evening hours enjoying the many delicious dining options. Then, dance the night away with a craft cocktail or your favorite beer in hand.
Not only is Folly Beach itself a wonder, but while staying at The Tabby House, you're just a quick drive from Charleston, where you'll find gorgeous architecture, world-class dining, and endless history to explore. Plus, music lovers are in for a treat, because Charleston is a hub for excellent live music of many genres, including blues, country, and rock
Perfect Social Distancing Vacation
With coronavirus restrictions on their way out, it's an excellent time to plan your dream getaway, but it's important to choose a destination prioritizing safety during these times. Folly Beach officially reopened on May 15, and since then, we've gone above and beyond with our safety and precautions for our guests.
Before each rental, the house is scrubbed clean by professionals, and is stocked with essentials. Soft furnishings are cleaned and vacuumed, the deck and patio furniture is cleaned, and sanitizing detergents are used to ensure a safe vacation. The Tabby House is also proud to offer several other key safety features during these times, including keyless entry, secured bedrooms, multiple bathrooms for privacy and cleanliness, and private washers and dryers which are sanitary and convenient.