The coronavirus pandemic has led to many changes, and that includes changes to travel and summer vacations. While there are ways to protect yourself from the virus while traveling away from home, health officials say it's important to consider places that may bring you into close contact with others, such as airports. Because of this, plenty of people are considering taking a "staycation" instead, or a vacation closer to home. If you're looking for the perfect vacation rental home, The Tabby House on Folly Beach, South Carolina is just a short drive away.
The Perfect Location
The Tabby House is one of the premier vacation home rentals on Folly Beach, South Carolina, and its location makes it a perfect option for your summer getaway. It's a breezy 10 mile drive from nearby Charleston, and is just an easy road trip from places such as Savannah and Augusta. 
Once you arrive at The Tabby House, you'll see why our guests say it's one of their favorite places to stay on Folly Beach, South Carolina. The property is tucked away on a quiet street, lined by Grand Oaks, and is nestled on the Folly River, which you can see from the gorgeous windows throughout the house. It's also located very close to the white sand beaches, and while you stay at The Tabby House, you'll be able to enjoy miles of surf and stunning views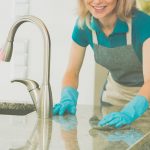 Safety is the Top Priority
When you choose to stay at The Tabby House for your nearby summer vacation, you'll see that the health and safety of our guests is our top priority. While The Tabby House is always immaculately cleaned before each guest, we are now going above and beyond to take extra steps, such as using commercial-grade disinfectants throughout the house. We're paying special attention to high-touch areas, such as televisions, doorknobs, remote controls, kitchen and bathroom faucets and controls, appliances, and balcony railings. Plus, we're vacuuming and cleaning all soft furnishings, cleaning the linens with sanitizing detergents, and cleaning the decks and patio furniture.
Other features of The Tabby House make it ideal for your socially-distanced vacation. We have a secured, keyless entry system, a private boat dock, and multiple bathrooms in the home, for privacy and cleanliness. 
An Abundance of Activities
Many of our guests enjoy vacation rentals on Folly Beach, South Carolina because of the array of activities there are to do in the area. While there is plenty of opportunity for lounging and unwinding, there are also plenty of things to do while you're in the area. Folly Beach itself is a hidden gem. The beaches offer excellent opportunities for surfing, swimming, and kayaking, and the boardwalk and town have delicious dining options, and tasteful shopping. You can rent a golf cart or bikes to bring the whole family to the beach with ease. You're also welcome to bring your own boat, and dock it at your very own private deep water dock.
At The Tabby House, you're just a quick drive away from Charleston, the hub of southern comfort and culture. You can visit the charming and historic city to stroll the gardens, explore the historic cemeteries, and visit classic plantations, such as the Magnolia Plantation. Dining options in Charleston are world-class, and there is a vibrant nightlife and music scene, for those who want to put on their dancing shoes.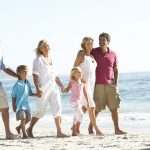 Your Ideal Vacation
The Tabby House is one of the most luxurious houses for rent in Folly Beach, South Carolina, and all of our guests can see why. The property utilizes a reverse floor plan, meaning the five bedrooms and a smaller living room are located downstairs, while the large living room, dining area, kitchen and master suite are situated upstairs. 
The Tabby House was designed with elegance and class in mind, with fine furnishings and plush linens. Plus, the airy windows give you the perfect view of stunning sunsets. The Tabby House is family-friendly, meaning you can bring along plenty of little ones. There's also plenty of space for the teens to hang out, and you can unwind on the wrap-around deck with your friends and their little ones as well.